kickstartDS is the starter kit for Design Systems
A low-code framework and comprehensive component library enabling development teams to create consistent and brand compliant web frontends super efficiently. Easy like squeeeeezing a lemon.
kickstartDS full flexibility in numbers
As result from +20 years of frontend experience we built the foundation to scale your Design System across all your platforms and websites
33
Components
Use them as solid building blocks, adapt and improve them as needed. From design tokens to full customization.
Read why our components are great.
580
Properties
Component properties encode decisions, rooted in reality, pre-solving everyday problems for you.
Directly engage with components through Storybooks rich interface.
793
Tokens
Of course we have design tokens – colors, fonts, sizes and iconography.
Additionally, component tokens provide a solid base layer of defaults for you to mutate.
Leverage rich integrations with the modern web stack, refocus on what really matters!
Out-of-the-box kickstartDS lets you connect your interfaces to
Frontend first approach
... a holistic view of components; unifying content creators, developers, designers and stakeholders under one roof
Rely on any framework you want
Every kickstartDS component consists of semantic HTML(5), CSS Modules & Properties and JavaScript (ES6). This makes it easy to implement across any framework or even stand alone.
Alternatively, use our ready-to-use React components directly in your codebase!
Quality user experience
A quality UX is defined not only by relevant content and services, it is also a matter of a clear and consistent brand image, with intuitive and usable interaction patterns and features.
Use our experience to your advantage!
Best in class performance
Built for maximum performance. The kickstartDS components runtime, design token system and CSS framework are as lightweight as you need it to be.
Stop thinking about build tooling and bundling!
Accessible by default
kickstartDS provides support for W3C's WCAG 2.1 spec. We take care that components support touch and keyboard navigation, screen readers and more.
And if needed, we can give you pointers for your content!
Easy peasy lemon squeezy
5 reasons why you should start with kickstartDS today!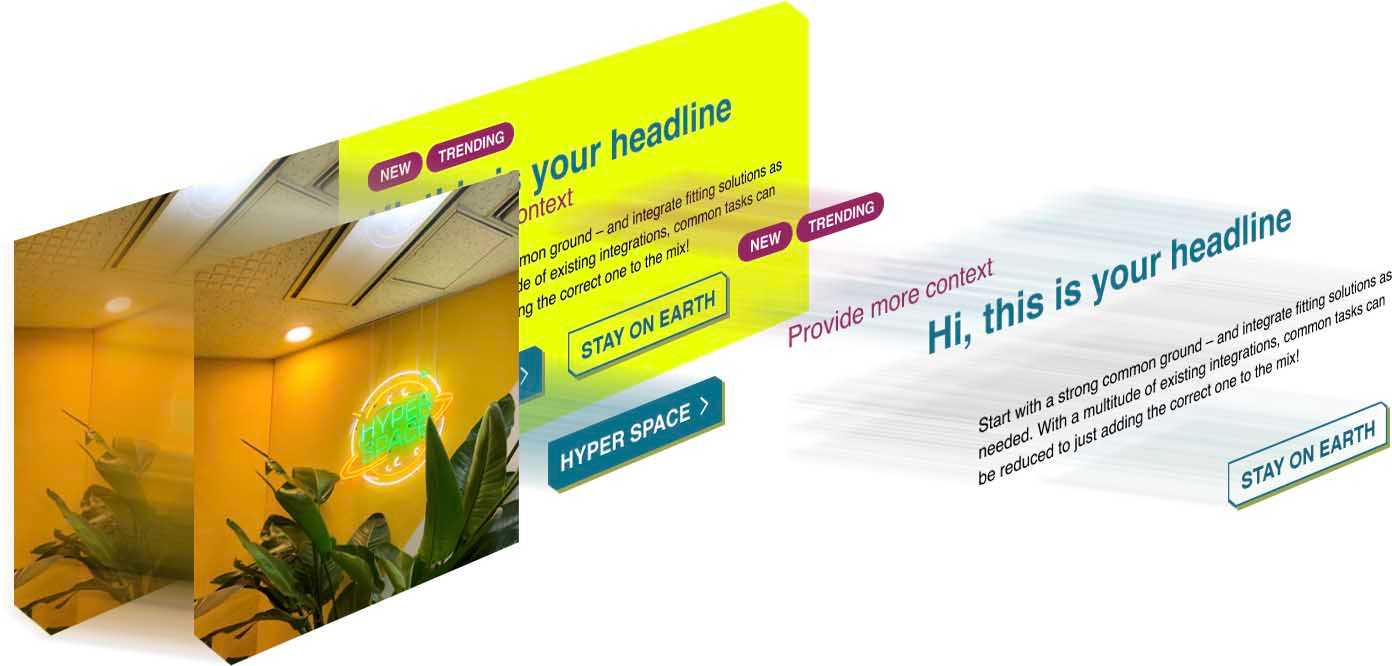 Great components
Make the most out of your frontends by unifying their core – utilizing component and design tokens
kickstartDS is the foundation for your Design System, built with reusable components and tools, guided by clear standards, that can be assembled together to create your products: fast, flexible, responsive, accessible and the best of all:
👉 you can plug it onto every digital touch point you own.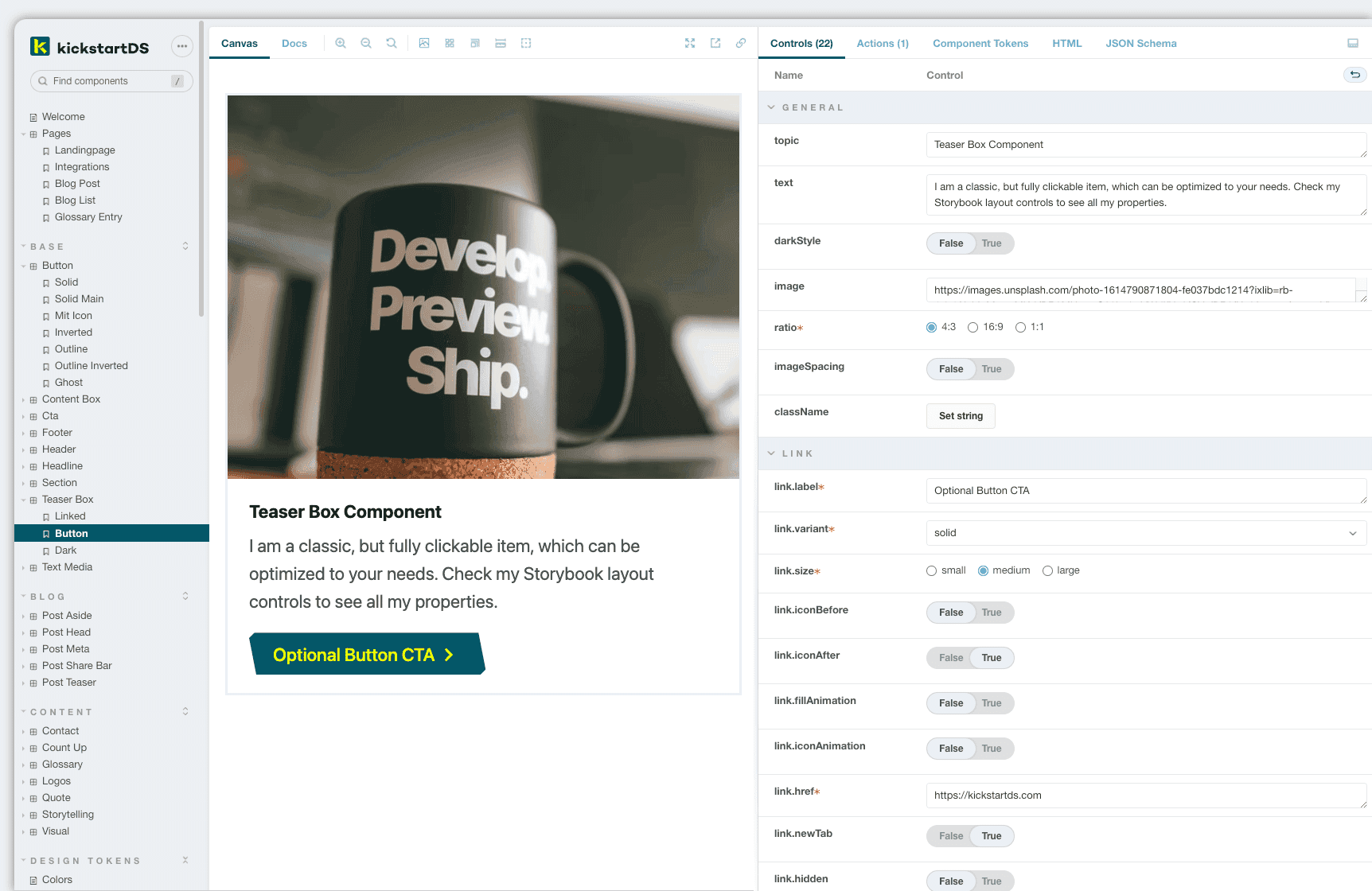 Flexible + easy design application
One common ground for developers and designers
kickstartDS helps developers and designers alike to independently deliver a consistent UX and engaging user interfaces.
With kickstartDS teams are able to design, build, and organize UI components better and faster. Using Storybook you make sure every element aligns with all the responsive scenarios your users may encounter!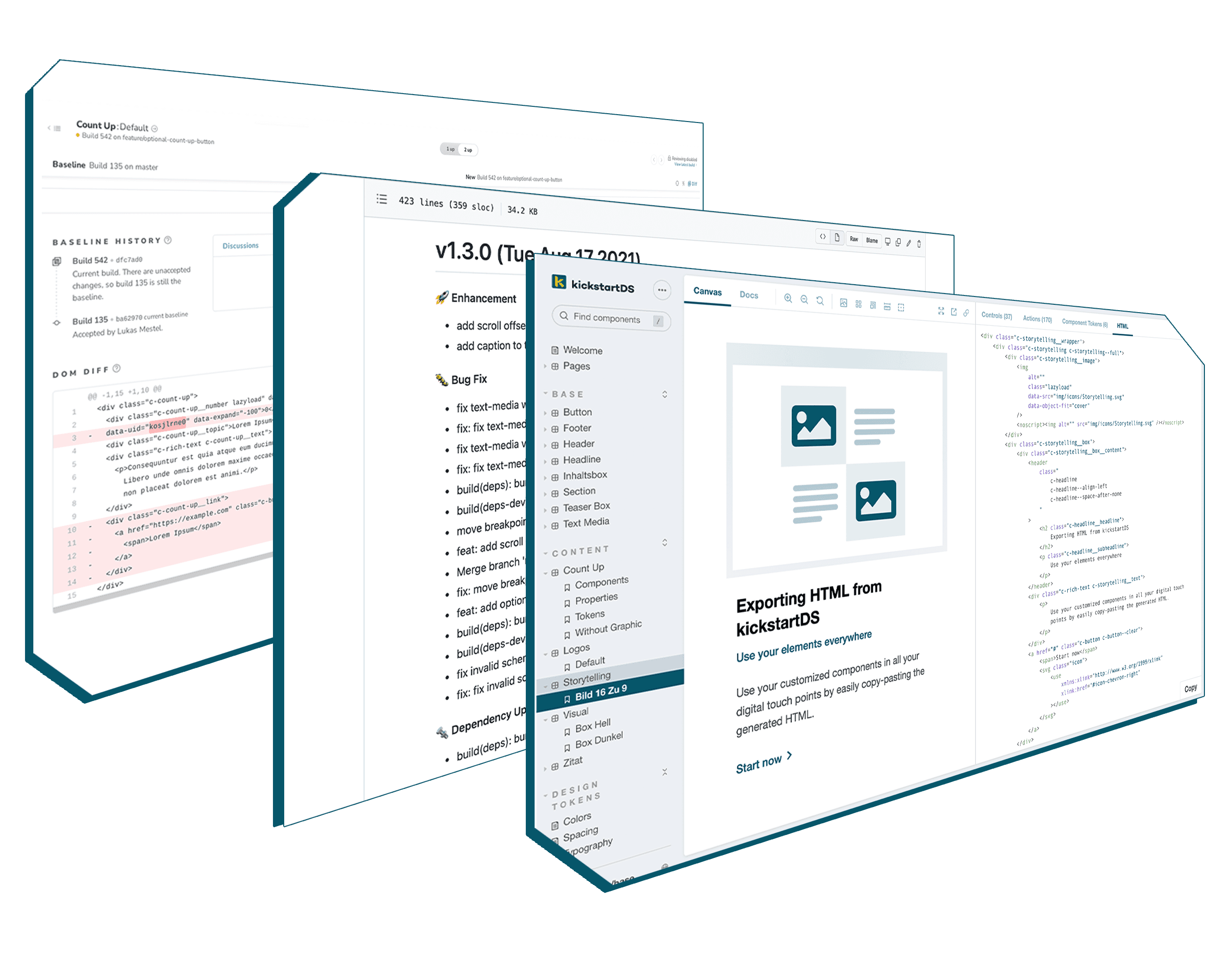 Working with "classic" backend environments
Tooling to support your daily integration tasks, improving developer DX drastically
Not every potential touchpoint can be run headless, and integration of HTML markup into backend templates still plays a very important role today. Be it your Rails-driven eCommerce site, a blog you run for your marketing department, or a fully custom backend-rendering based approach.
Changelogs with automatic markup change detection and documentation, copy-pasteable & configurable HTML-Snippets, and optimized bundles lighten your load!
Design System as a Service
kickstartDS is made to design all your frontends!
We offer consultancy to check if your frontend inventory matches with the components kickstartDS offers. This is already the case for more than 90% of our users.
Integrating kickstartDS, together with your design and dev teams, we'll assist and empower you to use your Design System on a day to day basis.
Integrations – Stop reinventing the wheel!
Start with a strong common ground – and integrate fitting solutions as needed
With a multitude of existing integrations, common tasks can be reduced to just adding the correct one to the mix!
Need a marketing- or landing-page? A blog?
Get the page-builder experience with Netlify CMS or Wordpress on our official Gatsby theme.
Building a Next.js page?
Use our auto-generated GraphQL API, including full documentation! Everything is SSR- and ESM-compatible, too! ... stellar performance included!
kickstartDS is a game changer. Its Design System helped our team to improve our brand consistency, while it's pattern library boosted our developers building completely new frontend components.
Nicole Mentzen, Head of Marketing @maxcluster GmbH
kickstartDS has saved us so much time scaling different white label frontends with the most performant framework I have ever seen.
Leh, CEO @Taktsoft GmbH
I have rarely seen such a passionated and dedicated team with one shared mission: enhance the developer experience and make frontend first again.
Byron S., Senior Frontend Developer
Just ask us what kickstartDS can do for you, specifically ...
Get in contact!
We would love to hear from you! Every bit and piece of feedback is welcome as we want to learn from you, get to know you better, to evolve kickstartDS to meet your needs.
Don't want to miss our release?
Sign up for a reminder as soon as we launch. You will only opt-in for two emails, a confirmation mail plus the release notification itself. Promised 🤞